Jackson, Wyoming just got a "whole" lot cooler.
Family-owned, passionate, and full of heart…Jackson Whole Grocer is setting the standard for what "food shopping" should be.
With an emphasis on sustainable, local produce, JWG has become a staple of the Jackson community – a thriving town square with so much more than what's on your shopping list.
From regional craft beers on tap to a wood-fired pizzeria, you're invited to stay a while, and a seat beside the fireplace is the best in the house. They've got a juice & smoothie bar, too – best enjoyed on the sun-drenched patio. Top it off with a sushi station & taco taqueria, and we're bringing our sleeping bags.
….And yes, they love the Earth. What more could you want in your go-to grocer?
In fact, JWG recently relocated to a 40,000 square foot spot – and the space is chock full of eco-friendly goodness. The ceilings are dotted with LED lighting, walls decorated with upcycled snow fencing and the café is covered in reclaimed furniture. They've even earned EPA's "GreenChill" certification for their use of green refrigeration systems.
We just love these guys. Their custom GreenBox is pretty cool, too. ;)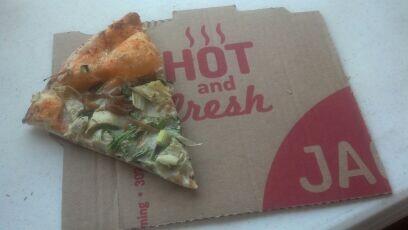 Because once you go whole, you'll never go half.